See How They work together. . .
The ideal relationship between business partners is when each party supplies an integral piece to an end-solution where the sum of the parts is greater than the whole. These pieces include elements such as products that perform beyond expectation, consultative expertise, and continuing customer care during a product's lifetime.
Mountain Secure Systems, TMS, and manufacturer, SMART, form such a partnership, where each company provides a distinct and unique contribution to the overall end customer's satisfaction. Here's the story how that happens.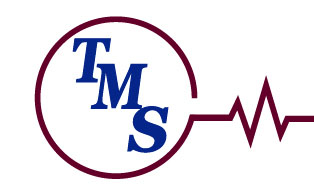 Mountain Secure Systems enhances solid state drives by utilizing high insertion drive/docking bay combinations and designs that are customized to meet their defense industry customers' requirements. TMS is a manufacturers' representative serving high-technology customers in the Rocky Mountain region, including Mountain Secure Systems.
Mountain Secure Systems brings value to programs when a standard COTS Solid State Drive can't be simply dropped into a system. Mountain Secure provides combinations of immovability, EMI protection, ingress protection through sealing, operational temperature extension, handling protection, as well as secure/destructive erase capability, which is why they use SMART drives.
When Mountain Secure asked their rep, TMS, if they carried any products that measured up to their customers' rigorous requirements, they naturally suggested SMART, which manufactures drives that meet the strict standards Mountain Secure customers require in the field.
Here are some of the applications where Mountain Secure employs SMART drives provided by TMS:
Rugged Disk Drives for High Altitude, High Gravitational Force Applications

Rugged JBOD for Harsh Environment, Military, Submarine and Aerospace Applications

Custom Engineered Data and Memory Storage Solutions For Military/Defense, NASA, Aerospace, and more

Rugged Airborne Data Storage

Rugged Airborne Recording

Ruggedized Mobile Computing

Ruggedized Remote Computing

Shipboard Data Storage System

Submarine Communications Data Storage

Unmanned Aerial Vehicles
What Products Did Mountain Secure Choose?
If you're interested in SMART's solid state drives, see the product overviews below. The 8 TB M1HC drive is the most comprehensively featured drive in the SMART product family and the M4 and M4P are built to provide a highly secured drive for a wide variety of applications. The M4P is especially designed to work at high altitude.
Contact Information
For more information, please contact:
Jim Piroli
Email: jim.piroli@smarth.com
Phone: 510-624-5354